Dirtchamber Sessions Volume One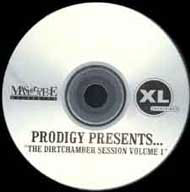 There are actually 2 different releases of
Dirtchamber Sessions Volume One. Originally
the CD was to contain many more tracks than
the final version. Tracks such as "Sgt.
Pepper's Lonely Hearts Club Band" by The
Beatles had to be removed before the final
printing.
Apple Recordings does not allow any Beatles
song to be sampled by anyone except Apple.
Paul McCartney, who wrote Sgt. Pepper, actually liked the idea of sampling
the song and encouraged the idea.
A 25 edition promo CD was issued that contains "Sgt. Pepper's Lonely
Hearts Club Band" and several other tracks that did not appear on the
final "street" release of the album. The final release has a different cover
that is made from cardboard, instead of the plastic jewel case that comes
with the promotional release. Although it is the same image on the cover,
the final release seems to be clearer, as if it were printed on a higher
quality printer. The final release also has a picture of Liam laying on the
floor with various pieces of mixing equipment and records. A small booklet
is inside the final version that lists the samples that appear in the tracks. It
also has a grungy picture of the words "IN USE."
Also, on the side of the
promo CD, it says
"PRODIGY PRESENTS.. THE DIRTCHAMBER SESSION VOLUME." On
the final release of the album it says "VOLUME ONE" instead of simply
"VOLUME." Minor mistakes like these are relatively common on
promotional releases.
The number "1" appears on the final CD, instead of the cheap-looking
promo that just has text. The number "1" is the same type of number that
appears on the cover. I'm not sure what exactly those numbers are, but
they appear to be from a combination lock of some kind.
The 25 edition promo is
an acetate burnt CDR
copy. It is not a very
well made promo, and
almost looks like a
cheap bootleg. The
interior label saying what number it is, is a glued-on label that looks like it
was applied by hand. Also, the plastic jewel case is no where near as nice
as the cardboard fold out that was included with the final release.
The album is a DJ mix album, done solely by Liam Howlett of The Prodigy.
Originally it was a show "Breezeblock" on Radio 1 in England. After the
Breezeblock show Liam worked on the mix more so it could be released as
an actual "album." Because of copyright problems, Liam could not release
the entire Breezeblock set, so it had to be revised. Some of the samples
and songs had to be removed.
The promo has differences between
the "Breezeblock" appearance, such
as the very beginning of the promo
has an introduction that was not
played at the "Breezeblock"
performance. Also, the final CD
release is 51 minutes and 21 seconds
long, while the CD promo is slightly
longer at 51 minutes and 34 seconds
long. The promo CD is just one long
track, as opposed to the final release, which had 8 separate tracks. Also,
on the promo CD there is a 24 second intro, that was not on
"Breezeblock" or the final CD.
Intercord released a 20 minute excerpt as a promotional item, which came
in a standard CD jewelcase. It was extracted from the Breezeblock
performance. It starts in the middle of "Untitled" by Hard Noise and it
stops in the middle of "Hey Can You Relate," by DJ Mink. There was also
a similar 20 minute excerpt promotional CD that was released by
Masterpiece Masterings and XL-Recordings. It looks almost the same as
the 25 edition promo release. Both 20 minute excerpt promotional CDs are
white burnt CD-R acetate copies. Both CDs contain one 20 minute long
"song." Printed on the CD is "For promotion only!" and "20 minute outake."
Intercord also released "LIAM HOWLETT
The Interview - The Dirtchamber Sessions,"
which is a series of questions about the
making of the album. It is a 26 track CD.
Track number 1 is the complete interview,
and tracks 2 through 26 are just the
answers. An official German promotional
version was also released. The total playing
time is 64 minutes.
If you want to sell any of these promotional excerpt CDs, please email me.
Important Dates:
10/12/98
"Breezeblock" is on Radio 1
2/22/99
Released in Europe
4/6/99
Released in the US and Canada

Description from XL
Recordings: "It started
life as a session
recorded for Mary Anne
Hobb's Breezeblock
segment on Radio One, and had since evolved into a densely-packed
fifty-minute trip through the sounds that have influenced Liam's music,
taking in raw hip-hop, edgy rock and a fine selection of prime old-school
beats. He delves deep into his record box, packing more than 50 tracks
into the 50 minute mix, cutting, scratching and crossfading in a rough style
that owes as much to legendary turntable maestros Double D and
Steinski as it does to current DJ demons like Invizibl Skratch Piklz and
Rob Swift. It's an exhilarating journey, and one of the finest mix albums to
hit the racks to date."
From the XL Recordings page: "Critically acclaimed mix album by Liam
Howlett giving insight into the sounds that have influenced Prodigy's
music, taking in raw Hip Hop, edgy Rock and a fine selection of prime old
school beats. "
"It is a collection of Liam Howlett's favorite hip hop
and funk tracks cut, pasted and mixed into the
most thrilling shape since God mixed the DNA for
Christy Turlington. 5/5" - Muzik
"'The Dirtchamber Sessions' is the most purely
enjoyable, rambunctious 50 minutes of music I've
heard in years. A piledriving, relentless,
spine-tingling meld of classic hip hop, Frankie Bones' early breakbeats,
indie, rock'n'roll and thrill-packed fusions like Bomb the Bass's 'Bug
Powder Dust' and the Prod's own 'Poison'." - Time Out
The "Dirtchamber Sessions" does not contain the "Dirtchamber Remix of
Diesel Power," that Liam did in 1998. The word "dirtchamber" is actually
what the name of Liam's studio is. That's the reason that the album is
named "Dirtchamber Sessions." If you watch the "Smack My Bitch Up"
video you will see that in the video, a CD with "Dirtchamber" written on it is
put into a radio.
Liam has done numerous solo DJ dates, where he highlights some of this
album. From what I have heard, his live appearances sometimes sound
even better than the album.
Some tracks/samples are not listed in the
album credits. One of them is on track #5
of the final release. A woman's voice says
"Yeah, well what do you think you have?"
This is an excerpt from "Drinking
Problem" on the Jerky Boys' second
album.
According to Kristian Kotta: "The first
track 'Tonto's release' is actually 'Punk
Shock' by Rasmus from his LP 'Mass
Hysteria.'" These exemptions were
probably just an oversight on the production company's part. I don't think
that Liam would deliberately not credit the sources.
As far as I know, there are no plans to release a follow up to this album.
This is supposedly "Volume One," but due to the copyright issues, I don't
think that "Volume Two" will ever be released. With all of the legal fees that
were spent in the production of this album, it probably wasn't as lucrative
as XL Recordings had expected it to be. If there will be one released, I will
be sure to put all of the information up here.
I am quite proud of the fact that I
have number 1 of 25 of the promo
CD. I'd like to know the location and
owners of all of the copies. Kristian
Kotta (owner of #10) and I are trying
to compile the whole list. If you know
where any of the rest are, please
email me.




Click here to see the tracks on the FINAL release.
Tracklisting on the final "street" release

Track 1:
Prodigy - Intro Beats
Rasmus - "Tonto's Release "
Hardnoise - "Untitled"
Chemical Brothers - "Chemical
Beats"
Ultramagnetic MCs - "Kool Keith
Housing Things"
Lightning Rod Featuring Jalal -
"Sport"
Ultramagnetic MCs - "Give The
Drummer Some"
Time Zone - "Wildstyle"
Track 2:
Bomb The Bass - "Bug Powder Dust"
Grandmaster Flash And The Furious Five - "Pump Me Up"
The Charlatans - "How High"
Prodigy - "Poison"
Jane's Addiction - "Been Caught Stealing"
Tim Dog - "I Get Wrecked"
Track 3:
Babe Ruth - "The Mexican"
B Boys - "Rock The House"
Chemical Brothers - "(The Best Part Of) Breaking Up"
Word Of Mouth - "King Kut"
Track 4:
DJ Mink - "Hey Can You Relate"
KLF - "What Time Is Love"
Franky Bones - "Funky Acid Makossa"
Franky Bones - "Shafted Off"
Franky Bones - "And The Break Goes Again"
Meat Beat Manifesto - "Radio Babylon"
Herbie Hancock - "Rockit"
45 King - "900 Number"
Propellorheads - "Spybreak"
Beastie Boys - "It's The New Style"
Track 5:
Sex Pistols - "New York"
Fatboy Slim - "Punk To Funk"
Medicine - "I'm Sick"
(Contains sample from "Drinking Problem" by The Jerky Boys)
Track 6:
DST - "The Home Of Hip Hop"
JVC Force - "Strong Island"
Primal Scream - "Kowalski"
Beastie Boys - "Time To Get Ill"
Barry White - "I'm Gonna Love You A Little Bit More Baby"
Public Enemy - "Public Enemy Number One"
JBs - "Blow Your Head"
T La Rock - "Breakin' Bells"
Track 7:
LL Cool J - "Get Down"
Digital Underground - "Humpty Dance"
Uptown - "Dope On Plastic"
Coldcut - "Beats + Pieces"
Track 8:
London Funk Allstars - "Sure Shot"
West Street Mob - "Breakdance Electric Boogie"
Hijack - "Doomsday Of Rap"
Renegade Soundwave - "Ozone Breakdown"
The Beginning Of The End - "Funky Nassau"
Jimmy Castor Bunch - "It's Just Begun"

Click here to see the tracks on the PROMO release.
Dirtchamber Sessions Volume One:

Tracklisting on the promo release


The Prodigy "Intro Beats"
Dynamix II "Give The DJ A Break"
The Beatles "Sergeant Pepper's Lonely Hearts Club Band"
Hardnoise "Untitled"
Chemical Brothers "Chemical Beats"
Ultramagnetic MC's "Kool Keith Housing Things"
Lightning Rod Featuring Jalal "Sport"
Unknown "Shangrila"
Ultramagnetic MC's "Give The Drummer Some"
Time Zone "Wildstyle"
Bomb The Bass "Bug Powder Dust"
Grandmaster Flash & The Furious Five "Pump Me Up"
The Charlatans U.K. "How High"
Jimi Hendrix "Little Miss Lover"
Ghost Face Killer "Daytona 500"
The Prodigy "Poison"
Babe Ruth "The Mexican"
The B-Boys "Rock The House"
Chemical Brothers "(The Best Part Of) Breaking Up"
Word Of Mouth "King Tut"
Run DMC "Peter Piper"
Rueben Wilson "Got To Get Your Own"
DJ Mink "Hey Can You Relate"
KLF "What Time Is Love"
Frankie Bones "Funky Acid Makossa"
Frankie Bones "Shafted Off"
Frankie Bones "And The Break Goes Again"
Meat Beat Manifesto "Radio Babylon"
Public Enemy "Rebel Without A Pause"
Herbie Hancock "Rockit"
The Prodigy "Smack My Bitch Up"
45 King "900 Number"
The Prodigy "Molotov Bitch"
Beastie Boys "It's The New Style"
Propellerheads "Spy Break"
Sex Pistols "New York"
Medicine "I'm Sick"
D.S.T "The Home Of Hip Hop"
Biz Markie "Nobody Beats The Biz"
Beastie Boys "Time To Get Ill"
Barry White "I'm Gonna Love You A Little Bit More Baby"
Public Enemy "Public Enemy Number One"
JB's "Blow Your Head"
Chemical Brothers "(The Best Part Of) Breaking Up"
T-La-Rock "Breakin Bells"
LL Cool J "Get Down"
Digital Underground "Humpty Dance"
Uptown "Dope On Plastic"
Cold Cut "Beats And Pieces"
London Funk Allstars "Sure Shot"
West Street Mob "Breakdance Electric Boogie"
Hijack "Doomsday Of Rap"
Renegade Soundwave "Ozone Breakdown"
The Beginning Of The End "Funky Nassau"
Jimmy Castor Bunch "It's Just Begun"

Down In The Dirt
Jayne Margetts encounters
The Prodigy's Liam Howlett to discover
why he's gone solo with
The Dirtchamber Sessions
email Jayne at: jayne@spikemagazine.com
Got an opinion or a question about this article?
Come and talk about it in the spike forum


There is no easy way to put this, but Liam Paris Howlett is
the pin-up poster boy of electronic punk. Choice doesn't
enter into the equation. The scions of street cred and music
bibles Mixmag, Loaded and The Face would fight tooth and
nail to boot the point home. The sneering and Lydon-esque
posturing of Keith Flint, for all of his arsonist threats and
lyrical foaming at the mouth, doesn't even come close.
There's only ever been one true maverick with his finger on
the sonic trigger, and the ability to ride the wave of longevity -
and he ain't got a mouthful of gold teeth...
If you were to drive this point home in Howlett's presence
he'd cringe. He isn't known for accepting compliments lightly.
Forever lurking in the shadows, tweaking knobs and quietly
moulding events as they unfold. This is always the mark of
the true genius. Machismo, pouting and controversy does
not maketh the rebel. Delivering the goods is what counts.
The Prodigy is currently hovering on the pause button.
Howlett, however, is not. The Prodigy Presents Dirtchamber
Sessions Remix Volume One trajectory is Howlett
unplugged. It's cigarettes, beer, dressing-gown and all. Old
skool toasting at its brashest. He flaunts, stomps and
mashes his way through a crusty male bonding session, the
ground work already laid by bosom buddies such as the
Chemical Brothers, Bomb The Bass, The Charlatans,
Propellerheads, Primal Scream, Jane's Addiction, Frankie
Bones, Medicine and Fatboy Slim, as well as nostalgic
heavy-weight cowboys of yesteryear: the Sex Pistols, Herbie
Hancock, Public Enemy, Digital Underground and Barry
White. Some will laud it as Howlett's best 'cut and paste'
work to date. Others will despise its tinny vernacular, cheesy
B-boy shoot-out at the OK Corral and old skool mentality.
The Sessions are the culmination of Howlett being goaded
by British radio show Breezeblock to provide a mix up. The
Beastie Boys, Bjork, Roni Size, Spiritualized, Primal Scream
and Portishead had all obliged. But Howlett? Initially the
suggestion was greeted with a point blank refusal. But
challenges are the nectar of life, and slowly the boy from
Braintree became seduced by the idea. "I'm not a fan of DJ
mix albums," Howlett ventures cagily, "to be honest, y'know,
you hear the whole track and just at the end you get a
twenty-second or a ten-second mix that kind of cheats the
public out of what a mix album in my head should be about.
"It should be about something exciting, and what I tried to do
with The Dirtchamber Sessions was to pick out the exciting
parts of the records and put them in, and it was kind of
getting that across to certain people who disapproved of
tracks, then I had to speak to them and sort of tell them I
come from sort of Grandmaster Flash and the Wheels Of
Steel, Lessons 1,2 and 3, Double-D and Starnsky.

"I can't find - especially these days -
dance records that really inspire me"

"And as far as the cheesiness factor is concerned, I think it
is one of the good things about old skool. Certain tracks do
have a certain cheesiness to them that appeal to people. I
mean, I definitely like it. When I think of the word 'cheese' I
think of kind of Euro-pop and, you've got to remember that
the hip-hop tracks that were written back then weren't
written for the money. It wasn't about the money then,
'cause there wasn't any money in it ... even some of the
Beastie Boys tracks. When they came out, the lyrics were
humorous and offensive, but they're kind of connected with
that.
"It was just like rebellious youth, going back to that again,
but listening to the tracks now, they still carry weight,"
Howlett reckons. "Some of them I'd added beats into the
mix. I didn't listen to the Charlatans and feel like the
production was weak, but I thought that by adding all of
these huge breaks to the track, that it would freshen the
track up again, somehow."
Home - usually an alien concept for Howlett - is the lush
English Essex countryside. Relaxation is found amidst the
foliage of the bonsai trees in his newly-constructed
Japanese garden, or mixing up The Dirtchamber Sessions
over the course of five days.
Insight into what makes the man tick is left to the spaces
between the lines, to the fleeting glances of the denim
bondage gear, studio tan, tales of a once "gifted child and
classically trained pianist." And although Howlett is renown
for warning prying eyes to keep a safe distance, he does
concede that The Dirtchamber Sessions are reflective of
him shadowing-boxing in the wings.
"I guess this mix album does underline the sort of love I have
for that type of music more than a Prodigy release would," he
shrugs. "I think the record kind of speaks for itself, and
people will get their own ideas of what it is that I am about,
and it should finally make people also understand what the
band is about.
"It does represent a lot of music that we're into. It's funny
actually, 'cause even though we're all into hip-hop, and you
know Keith was maybe more into rock, and Leroy into rare
groove, he picked up Public Enemy and stuff like that.
"I can't find - especially these days - dance records that
really inspire me, and I always go back to like old records that
kind of pull out certain vibes from the late eighties with the
hip-hop stuff. I felt like the Mexican stuff on Dirtchamber
was me going out on a limb, to show that the record wasn't a
total dance record, you know?
"And even sort of putting the Sex Pistols in, those are just
records I really like. I don't have to sort of try and be a dance
DJ, you know, you've got the Chemicals and Fat Boy Slim
doing that stuff. So I felt that, what I'm about, what music I
do actually like, you know, is really old school hip-hop, punk
and the breaks. The type of people that will buy this record
will be the people that want to know what goes on inside my
head when I'm in the studio writing the music, and so that's
basically the whole idea behind it, you know."
"There's nothing worse than a band that
doesn't know when it's time to say goodbye"

The late eighties were fertile times for Howlett and the
Prodigy. They quickly became the godfathers of the narcotic,
techno-punk brigade and the screech of the abandoned
generation. So when "Charly" and "Experience" slammed
headlong onto dance floors and reached into the synergy of
the masses, the cornerstone had been laid.
Music For The Jilted Generation with its claustrophobic slap
and morphic sting soared into the number one slot on the
British album charts, spurred a Mercury Award nomination
and went on to sell over 1 million copies globally. It was
fractious, bombastic and blatant. Dark break beats clashed
with maniacal acrylic guitars and gave Howlett kudos that he
never managed to live down.
As Keith Flint adapted the modern day Johnny Lydon
mantra, Howlett slipped quietly behind the songwriting ether
and shrank further into the shadows, until they released their
1997 masterpiece The Fat Of The Land and unleashed the
raw power of Howlett's songwriting prowess through the
shards of acidic demons "Firestarter", "Breathe", "Smack my
Bitch Up" and "Funky Shit".
The Dirtchamber Sessions Volume One, in all honesty, is
not Howlett's best work. The sentiment is undoubtedly there
but the substance isn't. What one expects is a pioneering
sleight of hand. A mix-up to the beat of the new millennium.
But perhaps bias always lies in the eyes of the beholder. The
Prodigy is the first-born son, anything else lags two feet
behind like a bastard orphan. And the host that provides the
cranial sperm is only too aware of mankind's fickleness.
"The Prodigy will always be together as long as we feel like
we're fresh, being fresh and kind of coming up with new
ideas and stuff," Howlett adds. "I think there's nothing worse
than a band that doesn't know when it's time to say
goodbye, and they're sort of carrying on trying to
continuously lock on to different cultures that come in.
"I don't think we've ever been accused of that. I think we've
always had our own style, and the thing I'm most proud of
with this band is kind of, there seems to be this kind of path
that most bands seem to follow. It's a sort of road through
doing certain interviews, going on TV, and it's a sort of road
to stardom, or whatever stardom is, and we haven't followed
any of those. We've done our own thing and chose our own
path, and that's something we're most proud of ..."
Liam Paris Howlett proffers the poison and remedy to the
psycho-somatic addict in us all. The Dirtchamber Sessions
Volume One is just that, a old skool break beat in the path.
An aural sniff of narcotic bliss. The tags, the kudos and the
legacy matter not. Pandemonium is only ever a step away ...

You can buy The Dirtchamber Sessions online
from
Amazon.com in the US online and
Audiostreet.com in the UK


Related links:
Make Up: It's Not Only Rock'N'Roll But I Like It
Jason Weaver's exclusive interview with Maoist rockers
Make Up
Linton Kwesi Johnston: Englan Is A Bitch
Nancy Rawlinson discovers the dub poet has not mellowed
with age
Will Oldham: Songs Of The Human Animal
Stephen Mitchelmore on Oldham's strange and beautiful
lyrics
DJ Culture
SPIKE reviews Ulf Poschardt's secret history of the DJ
Radiohead: From A Great Height
SPIKE reviews a surprisingly good unauthorised
biography of Thom Yorke and co.
Girls Will Be Boys: Women Report On Rock
SPIKE's review of an anthology
collecting female perspectives of rawk
www.prodigy.co.uk
Official site


Liam's Dirtchamber (2/3)
Howlett is very private about his personal life. Mixmag had to
agree not to describe his house in any way in this interview. He
may have earned more than most people dream of, but he
doesn't get off on rubbing people's noses in it. "I hate it when
people go on about the cars they've got and that shit," he says.
"People know I've always been into my cars. Me and Keith have
always been open about that shit, but it's not really important is
it? I'm not the kind of person that likes to go on about my car or
my other possessions. It's not because I feel in any way guilty of
what I've achieved, it's just that I don't see the point." So success
hasn't changed him? "I'm lucky because I'm the only member of
the band that gets to hide behind equipment on stage, so I don't
get recognised too much. Keith has to wear his hat and stuff
when he goes anywhere, but I can still go down to Tesco's. I do
get kids asking for my autograph, but it's not been overnight
success, so it hasn't seemed too strange. I don't sit there
counting my money or anything." What has he been doing then,
to fill his time since the endless touring finished last August?
"Normal shit, you know, I had a holiday, went out a bit. I wanted
to get straight into the studio, but I had a few things to get out of
my system. "I spent some time designing my garden, which was
really cool. A lot of thought goes into a Japanese garden, it's not
something you can just randomly put together. It's all about
balance - different rocks have different meanings. I really
wanted to get that kind of vibe at this house."

Then he changes tack, as if interrupting himself. "The main thing
I've been doing, to be honest, is working on the mix album. It's
taken a lot of work. From putting the thing together to trying to get
the songs cleared. But all of this," he shrugs, looking round his
living room, "just isn't important. The most important thing is the
music. That's all that needs to be discussed." The mix was
originally recorded for Mary-Ann Hobbs' Breezeblock show on
Radio 1. For Liam, the show offered a perfect space for his own
eclectic tastes. The resulting session was a high-speed
meltdown of breaks and snippets which fused The Beatles with
The Chemical Brothers, Hendrix with Bones Breaks and
Grandmaster Flash with The Sex Pistols. It was a cut-and-drop
showpiece which employed all the eclecticism and roughness
of the old skool - listeners could almost imagine the sticky tape
holding it all together. The radio show drew unprecedented
attention, prompting Liam to rework the mix into a tighter, more
beat-bound version for general release.
"Recording it was one of the most inspirational times I've had in
ages," continues Liam, as we walk into the studio to listen to an
early mix of the album. "Just sitting listening to all your favourite
records over a few weeks is such a fucking brilliant thing. I'm not
a regular DJ, so I never sit down and listen to records that much.
"One of the best things about DJing with breaks is that you can
find a break anywhere," he says, as the mix cheekily moves
between the Prodge's 'Smack My Bitch Up' and The Beastie
Boys' 'It's the New Style'. "I'd listen to these rock records and
hear a fucking awesome break and use it in my mix. Then I'd
listen to the whole track and realise it was a fucking dope tune.
Breaks aren't just from 70s funk, they come from country and
western, rock, everywhere really. I've used country and western
breaks that are tuff." Howlett's experience of working on the mix
album has had the effect of making the new Prodigy stuff "more
funky and much deeper", he says. "I reckon the next album will
put a lot of people off, but I know it's time to take the music in a
different direction. This doesn't mean I'm going to start doing
Massive Attack-type stuff just because they're my favourite
band. I still want to keep the energy there. What I don't want to do
is to start making music people would expect from me. There
were a couple of times on that last album when I fell into that trap
which, in the end, I wasn't happy about."



Liam's Dirtchamber (3/3)
'Dirt Chamber' certainly isn't what most people would expect the Prodigy to put their
name to. It's more like the end of a chapter in their career, crediting the people
who've massively influenced Liam and the Prodge to date. And it certainly isn't a
straightforward dance mix. "I'm from hip hop," says Howlett, dismissively, "and it's a
hip hop mix. I know hip hop fans will get it even if dance people won't. This mix isn't
me pretending to everyone that I was into old skool so I can be cool," he continues,
as the raw funk of 'Its Just Begun' by the Jimmy Cast Bunch brings the album to a
close.
"That fucking old skool revival was a piece of shit man. It was just people who don't
know more than fat laces and Run DMC. My mix is supposed to be an education for
those people who think they know what it was about, but didn't really. It's me saying
'this is actually what I used to do'. I was a b-boy and I can do those old skool mixes. I
was into it at a young age. I know the music, I know the breaks. "If commercial DJs
dropped an old skool mix they'd use all of the tunes that were crap, but people who
wanted to seem like they were down would always be into them," he laughs.
"Whenever people talk about old skool they always name Run DMC's 'Walk This
Way' or that Jason Nevins shit. I reckon Pete Tong would drop both of those tunes in
his old skool mix. When I say Pete Tong, I mean every single one of those
commercial DJs. They're not fit to wear fat laces. They'll never know what old skool
is about." Liam Howlett - telling it like it is. "Absofuckinglutely. That's what this album
is all about. Telling it like it fucking is."

Howlett's howlers
Liam Howlett is probably the highest-earning dance music producer of all time. So
what does he spend his money on?
1. Ninja suit "When I was 13, I saved up for months to buy this Ninja
suit. I reckoned hanging out with my mates being a Ninja would be dead
cool. But I never actually wore it. I was gutted about that for years."
2. Jacuzzi "When the Prodigy started getting some real success I
bought this jacuzzi - because I was on a rock star trip and imagined
myself lying back with the champagne and all that shit. But it was such
a hassle, because of all of the chemicals you have to use, that I sold it
to my manager."
3. Lotus Elan "After our first album came out, I bought a brand
new Lotus Elan. I only kept it for about three or four months
because it was shit. The gears fucked up - in fact everything
started to fuck up on it. Complete waste of money."
4. Exercise bike "A couple of years back, I started to get a bit of a
spare tyre and the band were taking the piss out of me. So I bought the
bike. It just sat there until I finally gave it to my dad. I don't think I used it
once."
5. VIBRATING bed "This geezer came round to my place to sell
me a double bed that vibrates and raises up at each end. He
brought the massage bit with him and it was like a giant dildo that
was put under the chair and made the whole thing vibrate. So I
bought the bed and when it arrived it was just two single beds that you shove
together. It cost me ?5,000 and two months later I found the same one in a shop for
half the price. That salesman had me for a complete sucker."